Abrasive Cutting
Brand : Flowwaterjetting
Product origin : WUXI CHINA
Delivery time : 2-8weeks
Supply capacity : 20Sets
FJ high-pressure water-jet abrasive cutting systems cut metal, concrete, composites and many other hard materials. Operating at pressures of up to 40,000 psi, they can quickly and efficiently cut concrete and rebar, or inspection and service openings in petrochemical tanks.

FJ's systems use automated nozzle tracking to control the movement of the cutting head.Systems are available for cutting both round and flat materials. Features included.
1. Less dust, noise and heat than other cutting methods.
2. Cuts cleanly with no burr, slag or warping.
3. Adjustable nozzle angles and tracking speed.
4. A single abrasive nozzle assembly can be used with systems for cutting flat and round materials.
5. Available in both air and hydraulic drive configurations.
Both the FJ Track Crawler and Pipe Cutting systems are hydraulically driven. Power is supplied by a 1/2 horsepower electric motor that drives the hydraulic power pack. The power pack is compact, lightweight, and only requires 110 volt power.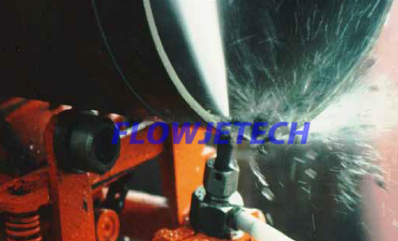 Abrasive Pipe Cutter
Features:
Adjustable nozzle angle and tracking speed.
Rugged, lightweight design powered nozzle assembly.
Cuts steel, concrete or PVC pipe
Requires abrasive cutting nozzle.
Easily adjustable chain guides hydraulically driven nozzle.
Manual Abrasive Cutting Stand
Easily wheeled into position up close to cutting target.
Lance can be adjusted vertically and from left to right.
Let operator concentrate on cutting job.
Operator lance thrust is eliminated using the stand.

Please feel free to give your inquiry in the form below. We will reply you in 24 hours.