Double Gun Valve
Brand : Flowwaterjetting
Product origin : WUXI CHINA
Delivery time : 15-20 days
Supply capacity : 80Sets
Product Description:
DGV(Double Gun Valve) allows two dump style water-blast guns to operate independently when connected to one waterblast pump. The DGV will divide the pump's total flow between the guns will maintain system pressure when either or both guns are dumping.
Setup using two hand adjustment dials is fast and simple
Utilizes two valve cartridges that can be easily replaced to completely rebuild the valve in the field in only three minutes
All pressure-bearing components are stainless steel
Zinc-plated base for corrosion resistance
Specially designed inlet and outlet connections are superior to industry standard connections and use a replaceable seal than metal to metal contact
Additional DGV can be added a system to further increase the number of tools in operation by a single unit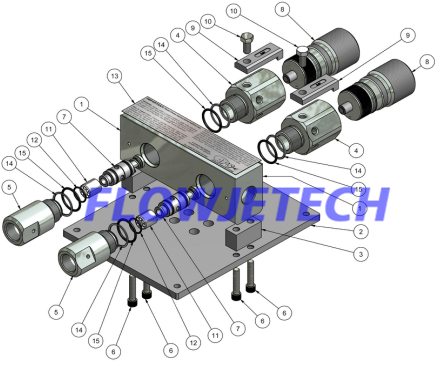 Please feel free to give your inquiry in the form below. We will reply you in 24 hours.