RPCH BJV Straight Pipe Cleaning Head
Brand : Flowwaterjetting
Product origin : WUXI CHINA
Delivery time : 15-20 days
Supply capacity : 80Sets
STRAIGHT PIPE CLEANING
RPCH Rotary Cleaning for Straight Pipes
The RPCH family is our most versatile line of pipe cleaning tools, designed for the widest range of configurations. A variety of head choices allow for pulling ring connections, customized porting, and multiple jetting options. Different viscous fluid options give operators the ability to change the speed of rotation for hard or easy applications. Can be used with a wide range of centralizers and backout preventers for added safety.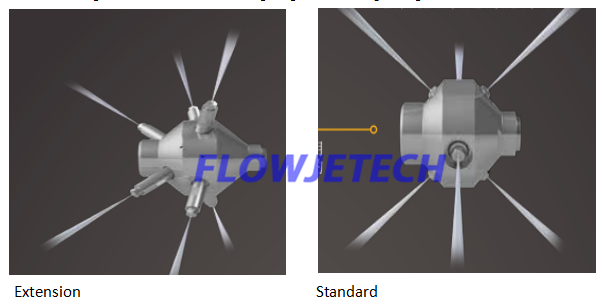 FEATURES:
·Clean 4in.(100mm) pipes to 15ft(4.5m) diameter tanks with simple modifications
·Interchangeable heads allow the tool to be used on any type of pump
·Multiple head options to allow for flush mounted nozzles, extension arms, plugs, and pulling rings
·Simple nozzle changes allow operators to configure for many cleaning applications
·Easy to pair with other accessories for hands-free pipe cleaning
RPCH There are several head configurations for the RPCH. The correct head specification
Is based on pressure and flow of the pump and the required port size.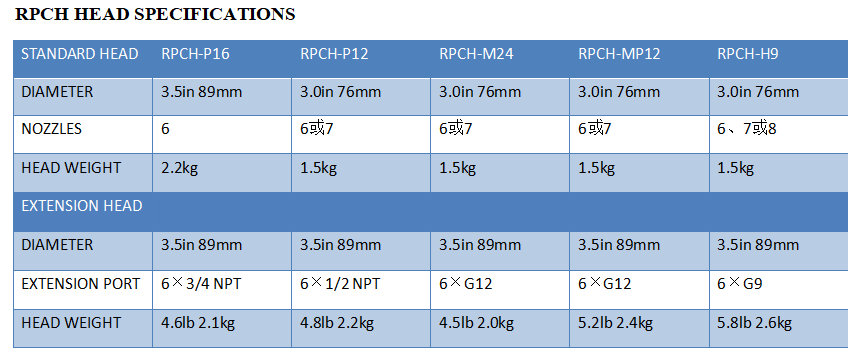 RPCH CENTRALIZERS
Centering Devices for Any Application
RP-070 SKID STYLE
Utilities interchangeable plastic runners which can effectively clean up to 12in.(305mm)diameter pipes and works with all RPCH models(Tools not included)

RP-288 CENTRALIZER
Designed for straight pipe runs only, these six-wheel centralizers feature an adjustable, scissor-style aluminum frame and tough plastic wheels. They are compatible with the entire RPCH line of rotary tools(Tools not included)

CAGE-STYLE CENTRALIZER
We recommend using stainless steel centralizers when negotiating complex piping arrangements and removing built-up debris while maintaining jet rotation.


Please feel free to give your inquiry in the form below. We will reply you in 24 hours.