UHP Personal Protective Equipment Full Suit Protection
Brand : TurtleSkin
Product origin : United States
Delivery time : 7 days
Supply capacity : 100 sets/month
Personal Protective Equipment
for High Pressure and Ultra High Pressure (UHP) Waterjet Operators. Full Suit Protection for up to 40,000 psi 2800 bar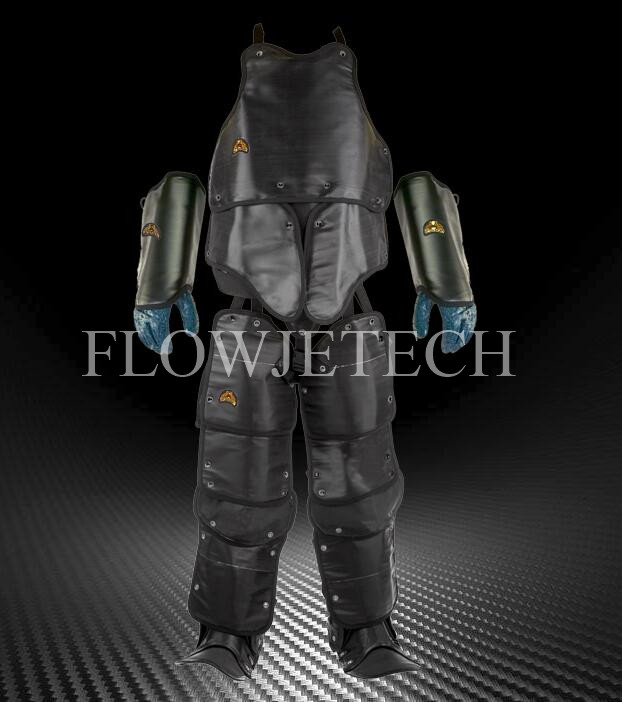 Suitable For:
1.Refining
2.Mining
3.Chemical Production
4.Shipyards
5.Pipe lines and sewage
6.Concrete construction and repair
7.Nuclear power generation and decommissioning

Features:
1.Designed specifically to prevent injuries caused by accidental swipes from the extreme cutting power of Ultra High Water Pressure.
2.A rugged outer layer also provides chemical resistance and is easy to clean for low maintenance.
3.Custom PPE system as component panels can be purchased and replaced individually. Chaps, Gaiters, Upper Torso and Arm Protection panels are all sold separately.
4.Patented fabric system flexes with the body.
5.Extensive protection to the front of the operator
6.Open back allows for increased circulation to keep the user cool and comfortable.
7.Independent panels allow for greater flexibility and ease of use.
8.Adjustable straps and panels make this protective suit suitable for all sizes and heights.
9.Cushioned knee pads protect knees from UHP waterjet streams and reduce the discomfort from kneeling on hard surfaces.
CE Certified PPE
TurtleSkin Waterarmor personal protection equipment has been CE type approved by Centexbel, Montoyerstraat 24, B-1000 Brussels, Belgium (notified body 0493) according to the directive 89/686/ EEC. Certificate number: 00101317. We confirm that each product is identical to the item subject to the type approval.
Pressure PSI (bar)

Flow Rate GPM (Ipm)

Orifice ID Inches (mm)

0O Nozzle, Single Orifice: Material

Distance Inches (mm)

Result

40,000

(2,800)

5.5 (21)

0.035 (0.889)

Sapphire

3 (76)

No Penetration

36,000

(2,500)

5 (19)

0.035 (0.889)

Sapphire

3 (76)

No Penetration

20,000

(1,400)

11 (42)

0.051 (1.295)

Tungsten Carbide

3 (76)

No Penetration

10,000

(700)

16 (61)

0.073 (1.854)

Tungsten Carbide

3 (76)

No Penetration
Please feel free to give your inquiry in the form below. We will reply you in 24 hours.